I get asked all the time by my couples about the pros and cons of having a First Look. Many question if it's something they should consider, if it will take away from the ceremony, and how the timing of the day will play out if they have one. In today's post, I am going to share my thoughts about First Looks, and answer all your questions!
What to Consider If a First Look is Right For You:
Timing of Your Ceremony
This is the most crucial aspect to consider. If you are having a traditional church ceremony in the morning or early afternoon, you will likely not do a First Look. Why? Because you will have a gap once the ceremony ends, before the reception starts, and should have plenty of time to get your photos done then. If you're nervous and want to see each other before the ceremony, a quick First Look can always be added in.
If your ceremony is later in the afternoon or early evening and your schedule of events are back-to-back (i.e. ceremony flows into cocktail hour which then flows into dinner) you will not have a lot of time to do your Bride & Groom Photos, Bridal Party Photos, and Family Photos, and I would strongly advise having a First Look in this case.
Flow of Events
You could have a prolonged cocktail hour (like 1.5-2 hours long) to try and get all those photos done during that time, but I would advise you to consider this from a guest perspective: if you were a guest at a wedding, would you want to stand for 1.5 to 2 hours during cocktail hour while the entire family was off doing photos? The answer is likely no.
Photo Location
If you are planning to take all your photos during cocktail hour and not have a First Look, is there a space that you will adequately be able to do so? If you're planning to do photos outside, is there an ideal rain back-up location? Will you be separated enough from your guests during cocktail hour that they won't try coming up to you while you're busy doing photos? Keep in mind that if your reception room requires a room flip, you will not have access to that space during cocktail hour for photos.

Timing of Your Cocktail Hour
I never want my couples to feel rushed at any point on their wedding day. If you have a First Look earlier in the day, you are able to get the majority of your photos out of the way, so that during cocktail hour, you can either:
A. Join your guests, relax and enjoy with them.
B. Stay in the bridal suite and have a private moment as Bride & Groom (as your planner I will always ensure hors d'oeuvres and your fav drinks are brought to you there!)
C. Take extended family photos, and then join your guests.
Will it Make My Ceremony Less Special?
My short answer is: absolutely not! In fact, I have been told by many couples that the First Look was one of the most special moments of their day, and made them feel less nervous and more excited for their ceremony. It's a great decision for couples who want to spend some quiet time together before the ceremony.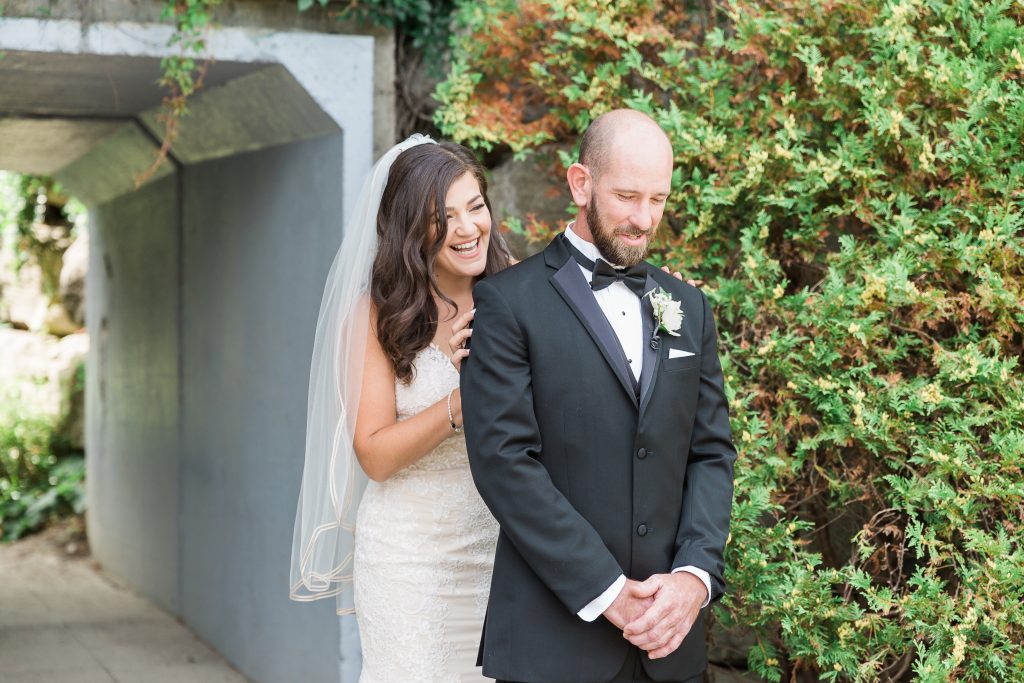 Ultimately there is no right or wrong answer, it is a personal decision based on many factors, as noted above. If you are more traditional, and your wedding schedule allows it, maybe you want to skip the First Look. But if you want to ease wedding day nerves and give yourself more time to enjoy your cocktail hour, a First Look may be the right choice for you. Speak to your photographer and planner if you're on the fence, and I'm sure you will end up making the best decision for your wedding day!